Weight Loss Max Support
TM
---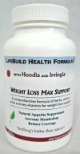 When it comes to weight loss, who couldn't use a little help? With Weight Loss Max Support, you'll get it.
It combines the most effective herbs, amino acids and key vitamins to help you lose weight.
It works to reduce cravings, help you feel fuller longer, and naturally suppress appetite. It also increases metabolism naturally without excessive caffeine as well as helps increase your body's ability to burn stored fat and daily calories.
---

What (real) people say about Weight Loss Max Support:

"I am noticeably less hungry, and the message that I am full seems to get to my brain more quickly than before."
---
"I still notice that I am feeling great, and my significant other seems to think I am in a much better mood...(BTW - I lost 6 pounds in the first 5 days*)"
---
"I find that food doesn't hold as much interest for me now – this is a big thing for me. Late last night I would have typically been looking for a snack and was actually planning to have one. When it came down to it, there was nothing that I was interested in eating, so didn't have anything! This product seems to have turned off that focus on food."
---
What Weight Loss Max Support does:

Naturally suppresses appetite
Potent thermogenic. Increases Metabolism and energy
Increases your body's ability to burn stored body fat
Helps reduce cravings
Feel fuller longer 
Works to burn carbohydrates more efficiently
Increases mental clarity
Helps to balance moods
High in antioxidants

Ingredients:

Irvingia Gabonensis: Irvingia, or African Mango, is from Africa and is an effective appetite suppressant herb gaining widespread attention due to the reporting by TV personality Dr. Oz. Irvingia is a major part of the Weight Loss Max Formula. Here's what a recent scientific journal had to say about Irvingia:

"Irvingia Gabonensis significantly reduces body weight and improves metabolic  parameters in overweight humans in a randomized
double-blind placebo controlled investigation."

Hoodia Gordoni: Hoodia has been used for centuries to help African nomads effectively suppress their appetites in areas with limited food sources and is a major part of Weight Loss Max Support. Recent studies have confirmed its appetite suppressant properties. People report how natural it seems and really helps them overcome cravings and overeating.

Garcinia Cambogia: Garcinia is a small fruit from Asia that looks a lot like a small pumpkin. The most active component, Hydroxycitric Acid(HCA) has shown to inhibit citrate lyase, an enzyme that helps turn the excess carbohydrates you eat into fat. So by inhibiting this enzyme, your body is better able to burn those excess carbs rather than storing them as fat. A side benefit of Garcinia is that it has shown to increase serotonin, which improves mood.

Gynostemma: although not well known in America (yet), Gynostemma has a very long list of benefits and one of them is as a weight loss aid.It can also be found in our Ultimate Invigorator formula. Since it raises metabolism, it naturally helps burn calories. But it also works to balance the body under stressful conditions, so it helps reduce the cravings and overeating that seem to accompany stress.

Gymnemma Sylvestre: Gymnemma is used in other countries as a natural means to help balance blood suger. When blood sugar is balanced, a natural reduction in food cravings follows.

Coleus Forskohlii: Coleus works to cause fat cells to be released and used for energy. It also increases thyroid hormone production which increases metabolism.

Green Tea Extract: Green Tea Extract has shown to have a major impact on increasing thermogenesis as well as increase fat oxidation(burning fat). It has shown to increase thermogenesis by 35%, a very high amount, which means increased weight loss. And it's not the small amount of caffeine in green tea that does it, but other chemical constituents of the plant.

Cinnamon: Cinnamon has a positive effect on blood glucose levels which will reduce cravings and overeating. It has also shown to reduce cholesterol levels.

Cayenne Pepper: Another thermogenic. The main ingredient is capsaicin, which has shown to increase metabolism and burning calories. It also suppresses hunger and increases blood flow, which helps the whole Weight Loss Max Support formula work better.

Yerba Mate contains mateine, a chemical often confused with caffeine, but studies show it is quite different. First, it will not stress the adrenals like caffeine can. It is also not addictive and even in fairly large amounts, will not make you jittery. But it will raise metabolism. It is also very nutritious, is a good antioxidant and actually improves sleep! Nature does it again. It is a small, but important component of the formula.

Amino Acid Blend: Three key amino acids are included in Weight Loss Max Support:

L-Carnitine Fumarate is used to help transport fatty acids into the cells where they can be burned for energy. Increasing L-Carnitine also increases energy levels.The 'fumarate' version is preferred for weight loss.
Taurine promotes metabolism and energy production naturally. It is also an antioxidant and a big benefit to the heart.

Vitamins and Minerals
Chromium Picolinate is an essential nutrient necessary for normal sugar and fat metabolism. Most people are deficient in chromium.

Vitamin C is added to the formula to increase the absorption of the Chromium Picolinate.
Vitamin B12 is an essential micronutrient that plays an essential role in energy production as well as in turning food into energy. You don't need much, but you definitely need it. It helps keep cells strong and healthy and is necessary to activate fat, protein and carbohydrate metabolism.

Ingredients: A proprietary blend of Irvingia Gabonensis(4:1extract) Hoodia Gordonii (5:1extract), Garcinia Cambogia (50%HCA), Gynostemma, Yerba Mate, Gymnemma Sylvestre, Coleus Forskohlii, Green Tea Extract (50% polyphenols), Cinnamon,* Cayenne Pepper, Amino Acid Blend (L-Carnitine Fumarate, Taurine),Vitamin C (10mg), Chromium Picolinate (7mcg), Vitamin B12 (1mcg) (*Organic ingredients)

Suggested Usage: As a dietary supplement, take 1 capsules 30 minutes before meals 3 times daily. Do not take before bedtime.
Note: Do not take if pregnant or nursing. If you have a medical condition or on medication, consult with your doctor before taking.

650 mg/vegetarian capsule - 100 capsules/bottle - (over one month supply)
* Individual results may vary and can be supported by a healthy and nutritious diet as well as regular moderate exercise.

---

Out of Stock! Sorry for the inconvience.


---
Return to LifeBuild Health Home Page from Weight Loss Max Support